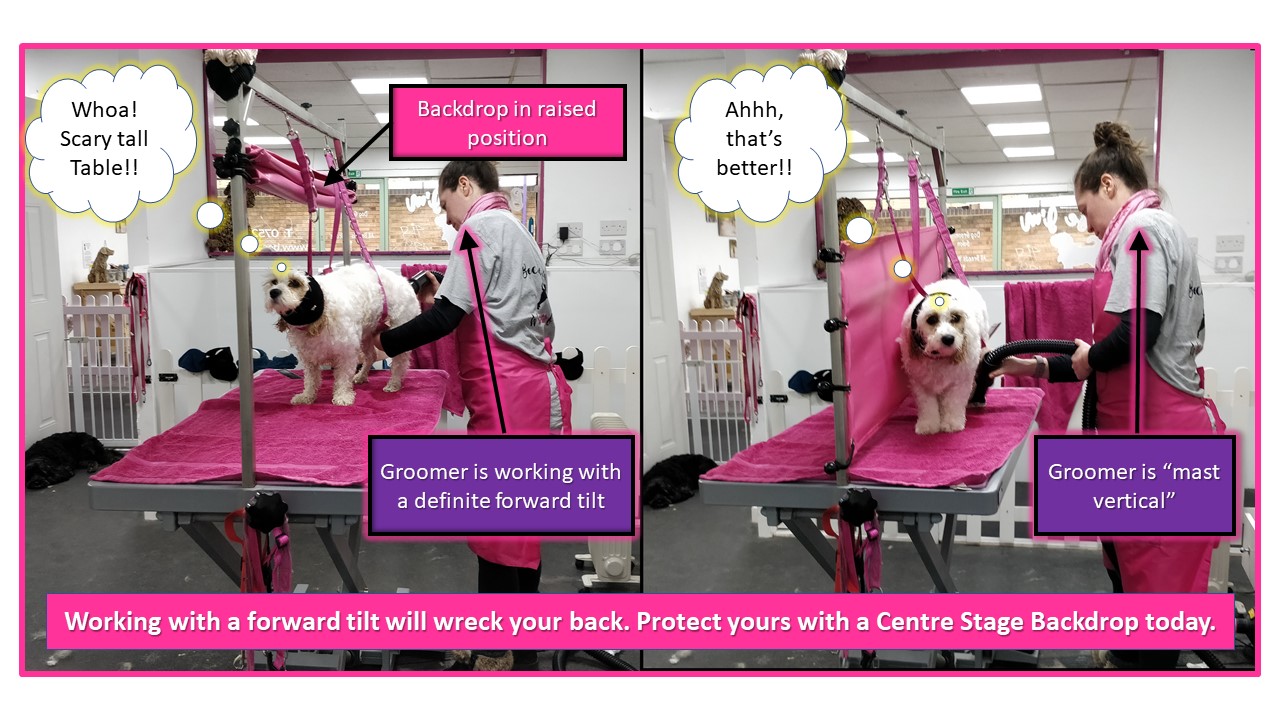 The Centre Stage Backdrop is a piece of equipment that prevents the phenomenon of "table migration" where the dog that is being worked on strives to maintain its position on the opposite side of the grooming table from the groomer.
The Backdrop is not machine washable. To clean, simply brush off any loose hairs with a bristle brush and wipe it over with a damp cloth. It is recommended that you do this after each groom.
It can be used with two compliant dogs at the same time, one on either side of the same table.
The Backdrop has been designed with small/toy/and (dare I say it) teacup dogs in mind. It is not recommended for dogs over 12KG.
By keeping the dog in position the groomer's body posture is vastly improved and the major cause of lower back pain (constantly working at an acute angle) is largely eliminated.
It effectively screens off "reactive" dogs in the grooming salon.
The Backdrop is attached via ball-bungees which enables it to be easily slid up the H-frame bars, out of the way, when not required.
Please measure the distance in-between the H-frame bars in inches (see below).
Buy the Centre Stage Backdrop.
If you have any questions please feel free to Contact Us.
Each Backdrop is individually made for you, we do not carry giant stocks in every conceivable size. It will therefore probably take 7 to 10 days to get to you following cleared payment.
For use with dogs 12 Kilos and under.
Currently only shipping to the UK.
How to measure for your Backdrop

Colours Available: Royal Blue, Pink, Purple, Grey.